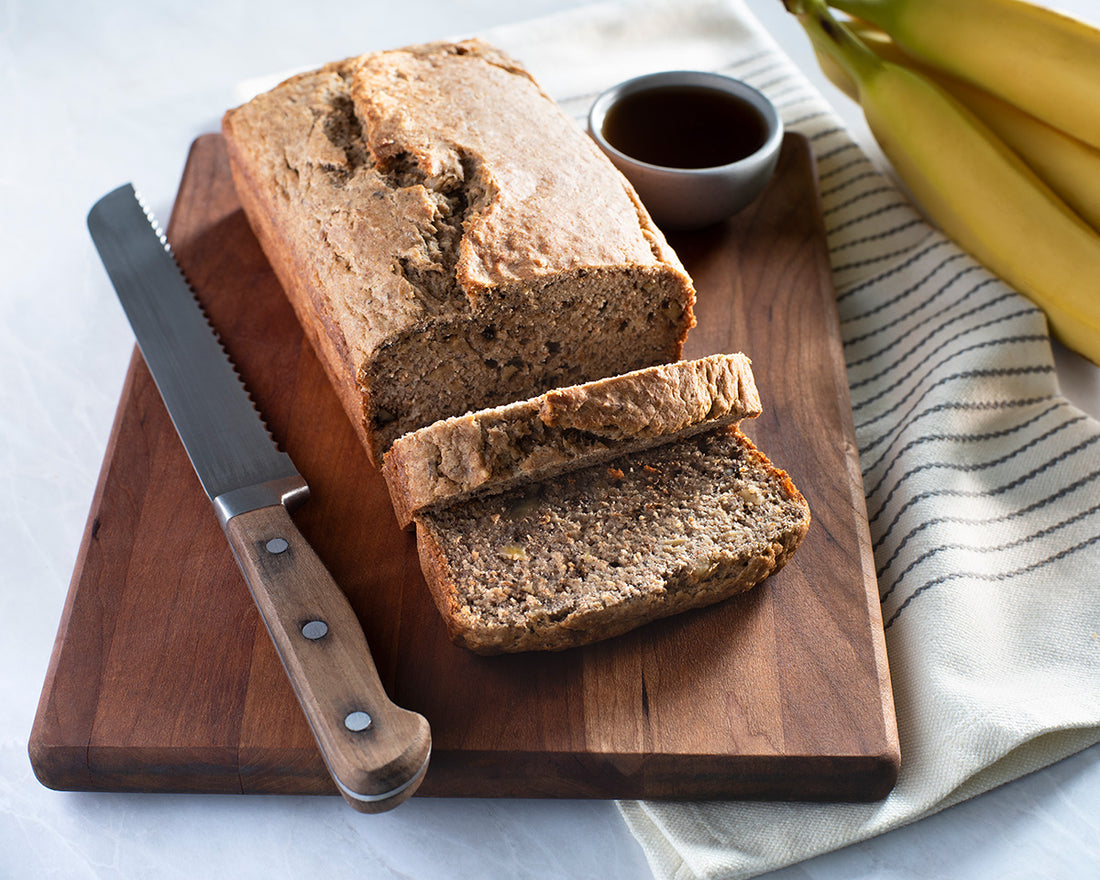 Laced with walnuts and sweetened with pancake syrup, this moist and tender banana bread is perfect for a grab-and-go breakfast.
INGREDIENTS
1 1/2 cups whole wheat flour
1 tsp baking powder
1 tsp baking soda
1/2 tsp salt
1/4 tsp ground cinnamon
2 eggs
1/2 cup Walden Farms Pancake Syrup
1/2 cup low-fat Greek yogurt
1/4 cup canola oil
1 tsp vanilla extract
3 ripe bananas (, mashed)
1/2 cup chopped toasted walnuts (, optional)
INSTRUCTIONS
Preheat oven to 350°F. Grease 9- x 5-inch (23 x 13 cm) loaf pan and line with parchment paper.
In large bowl, whisk together flour, baking powder, baking soda, salt and cinnamon. In separate bowl, whisk together eggs, pancake syrup, yogurt, coconut oil and vanilla until blended; whisk in bananas.
Stir egg mixture into flour mixture; fold in walnuts, if desired. Scrape into prepared pan; smooth top. Bake for about 50 minutes or until tester inserted into center comes out clean. Let cool completely in pan on rack.
NOTES
Tip: Substitute pecans or hazelnuts for walnuts if desired.
Nutrition Facts
Per serving
Calories 140
Fat 6g
Saturated Fat 1g
Cholesterol 30mg
Sodium 250mg
Carbohydrate 18g
Fiber 2g
Sugars 4g
Protein 4g
WW SmartPoints = 5
Products