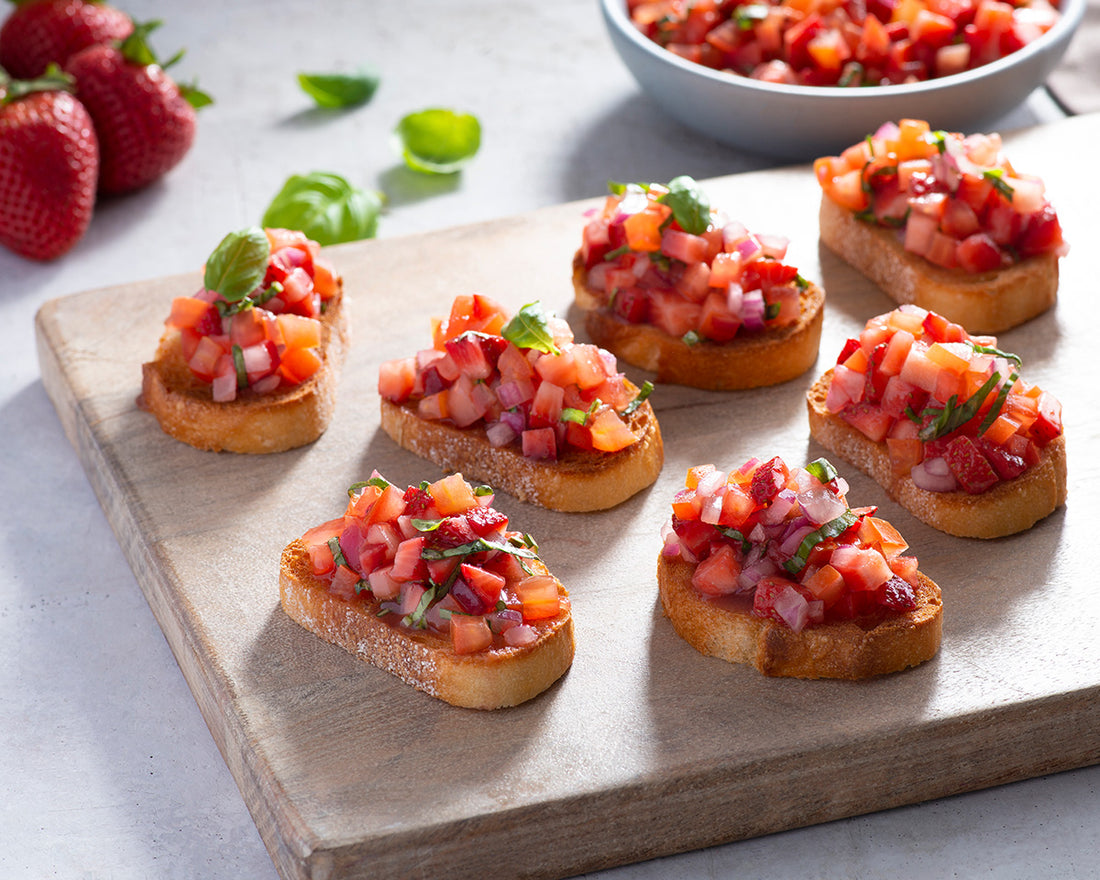 Tomato and Strawberry Bruschetta
Here's a berry delicious bruschetta that will wow any crowd as a snack or appetizer.
INGREDIENTS
1 cups diced tomatoes
2 cup chopped strawberries
1/3 cup Walden Farms Raspberry Vinaigrette
1/3 cup cup diced red onion
1/3 cup sliced fresh basil (, divided)
1/4 cup Walden Farms Strawberry Spread
1 baguette (, sliced into 24 slices)
2 tbsp olive oil
INSTRUCTIONS
Preheat broiler. In large bowl, toss together tomatoes, strawberries, vinaigrette, red onion, 1/4 cup basil, and strawberry spread. Let stand for 10 minutes.
Meanwhile, brush both sides of baguette slices with oil. Arrange on foil-lined baking sheet; broil for 1 to 2 minutes per side or until golden brown and toasted.
Top each baguette slice with heaping tablespoonful of strawberry mixture. Sprinkle with remaining basil.
NOTES
Tips:
• If desired, top with Parmesan cheese, fresh mozzarella or burrata cheese.
• Serve any remaining strawberry mixture with additional baguette slices or an assortment of crackers.
Nutrition Facts
Per serving
Calories 190
Fat 5g
Saturated Fat 0.5g
Cholesterol 0mg
Sodium 410mg
Carbohydrate 33g
Fiber 3g
Sugars 5g
Protein 5g
WW SmartPoints = 6
Products