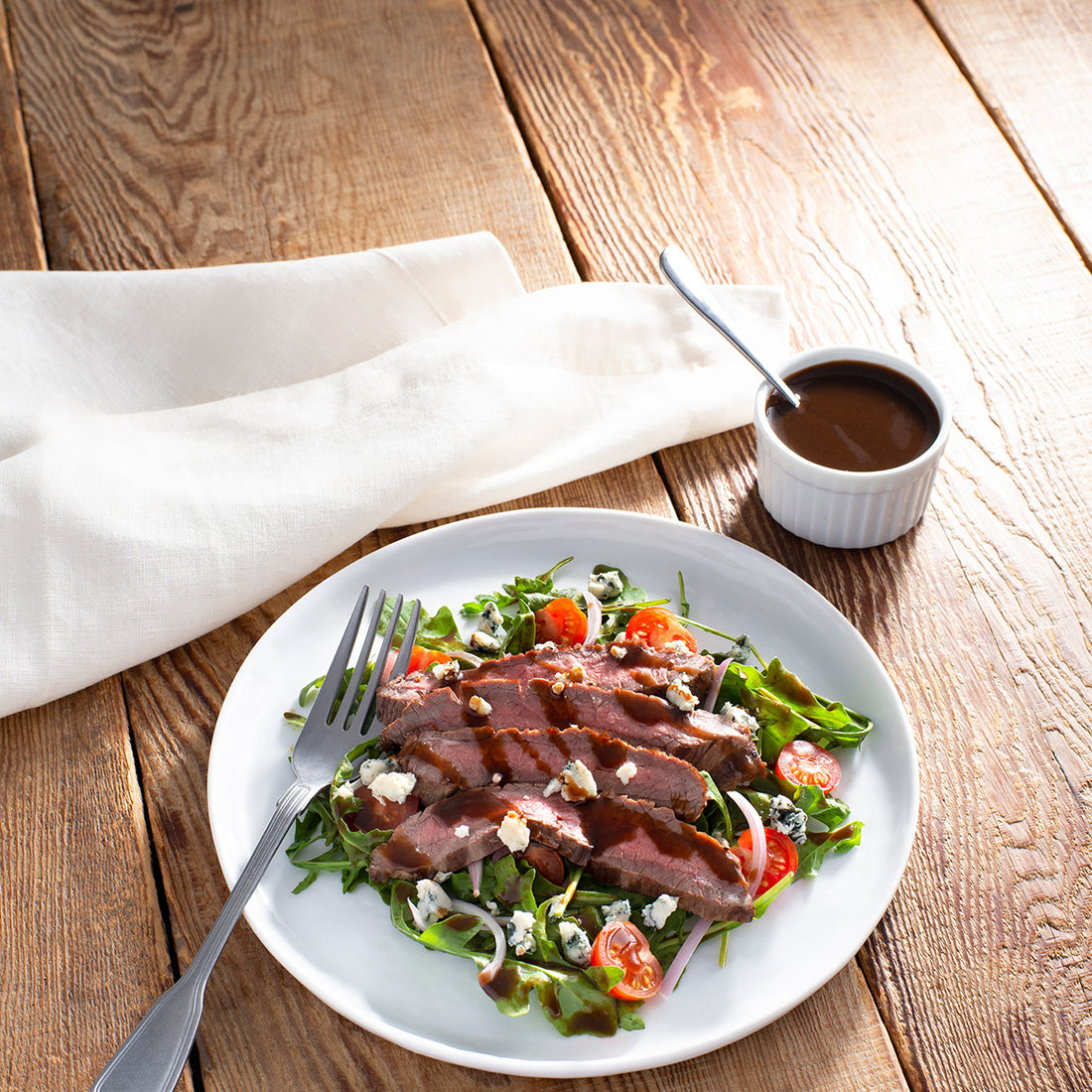 Balsamic Marinated Steak Salad
With only a few ingredients, this hearty grilled steak salad is perfect for easy summer dinners.
INGREDIENTS
2 lb flank steak
1 1/4 cups Walden Farms Balsamic Vinaigrette (, divided)
2 tsp cracked pepper
8 cups baby arugula
2 cups halved cherry tomatoes
1 large shallot (, thinly sliced)
1/3 cup finely crumbled blue cheese
INSTRUCTIONS
In resealable plastic bag, combine flank steak and 1/2 cup vinaigrette. Refrigerate for at least 8 hours or up to 24 hours.
Preheat grill to medium-high heat; grease grate well. Shake off excess marinade from steak, discarding marinade. Season steak with pepper; grill steak, turning once, for 8 to 10 minutes for medium-rare, or until cooked as desired. Let stand for 10 minutes. Slice thinly across the grain.
Toss arugula with 1/3 cup vinaigrette; transfer to serving platter. Scatter tomatoes and shallot over top. Arrange steak slices over top. Sprinkle with blue cheese and drizzle with remaining vinaigrette.
NOTES
Tip: Substitute goat cheese for blue cheese if desired.
Nutrition Facts
Per serving
Calories 320
Fat 13g
Saturated Fat 6g
Cholesterol 85mg
Sodium 490mg
Carbohydrate 5g
Fiber 1g
Sugars 2g
Protein 42g
WW SmartPoints = 8
Products