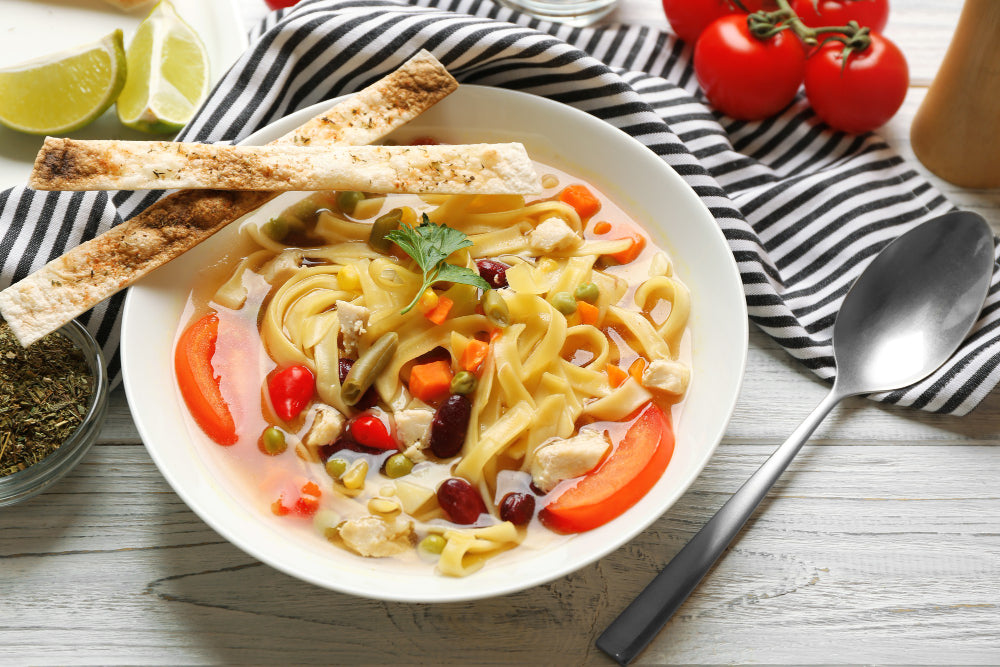 Simple Chicken Tortilla Soup
Spring is here and summer is right around the bend so let's talk about the heat! There are so many ways to impart both chile heat and flavor here, and this recipe works with any of them: 1 minced jalapeño or serrano, or more to taste. Ground chile powder (not the spice blend for chili, the dish), chipotle powder, or even smoked hot paprika or cayenne will give it a kick. You could use a minced chipotle from a can, or just a spoonful of the puree around it. You could add some dried chiles, first toasting them in a dry pan, soaking them in hot water until soft, and blending them. Each will change the flavor of the soup slightly, and deepen it. If you only have bone-in skin-on chicken thighs, start with 1.3 pounds and cook it 5 minutes longer.
INGREDIENTS
Soup
2 tbsp olive oil
1 large white onion (finely chopped)
3 Cloves garlic (minced)
1 pcs jalapeño (finely chopped)
1 tbsp ground cumin
1 tbsp ground chile powder
3 to 4 cups chicken stock or broth
1 pound boneless, skinless chicken thighs ((see Note))
1 cup fresh or frozen corn kernels ((optional))
Kosher salt and black pepper
1/2 lime juice
TOPPINGS
cotija cheese, crumbled
1 medium avocado (sliced)
2 tbsp Walden Farms Chipotle Ranch Dressing
Second half of lime, cut into wedges
chopped fresh cilantro
INSTRUCTIONS
Heat a large or 4-quart soup pot over medium-high. Once hot, add olive oil. Once the oil is hot add onion, garlic, and jalapeño and cook, stirring, until softened and beginning to brown at the edges, about 5 minutes. Add cumin and chile and cook for one minute. Add Walden Farms Tomato Basil Pasta sauce and cook, stirring, until one shade darker, about 2 to 3 minutes. Add 3 cups chicken broth and stir to combine. Add chicken thighs and bring the soup to a simmer. Reduce heat to medium-low and cover, simmering for 15 minutes, until chicken is very tender and cooked through. Remove chicken with tongs and transfer to a cutting board. Add corn (optional; still frozen is fine to soup), and gently simmer for 3 to 5 minutes. While it simmers, use two forks to shred chicken into bite-sized pieces. Season soup well with salt and black pepper. Return shredded chicken to soup and warm through, 1 minute. If the soup is too thick for your liking at this point, add all or part of the remaining 1 cup of broth and bring it back to a simmer. Recheck seasoning and adjust to taste. Remove from heat and squeeze lime juice of half a lime over. Serve with any finishings of your choice; shown here with avocado, cilantro, cotija, and Walden Farms Chipotle Dressing.
NOTES
This is a fun recipe that coincides with the celebration of Spring. This healthy soup recipe will provide your family and friends with a Latin gourmet experience that will inspire everyone to exclaim, "Sabroso!"
Products