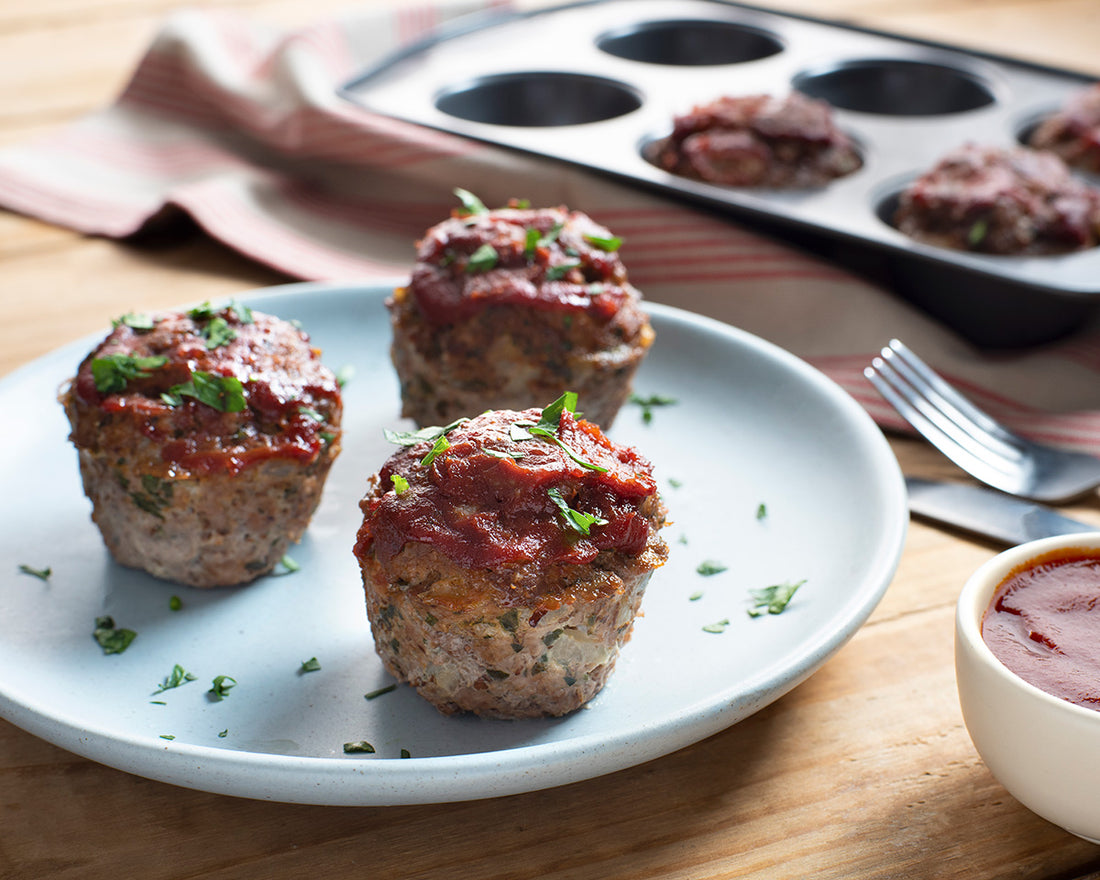 Keto Mini Meatloaf Muffins
Flavored with Walden Farms Ketchup, these tasty mini meat loaves are low on carbs but high on deliciousness.
INGREDIENTS
1 tbsp olive oil
1 large onion (, diced)
2 cloves garlic (, minced)
1 1/2 lb ground beef
1/2 cup Walden Farms Ketchup (, divided)
2 eggs
1/2 cup grated Parmesan cheese
1/3 cup ground flax seeds
1/3 cup finely chopped fresh parsley (, divided)
1/4 cup Walden Farms Italian Dressing
1/2 tsp pepper
1/4 tsp salt
INSTRUCTIONS
Preheat oven to 400°F. Grease 12-cup muffin tin. Heat oil in skillet set over medium heat; cook onion and garlic for 3 to 5 minutes or until softened. Let cool slightly.
Mix together ground beef, onion mixture, 1/4 cup ketchup, eggs, Parmesan, flax seeds, 1/4 cup parsley, dressing, pepper and salt just until combined. Divide into 12 portions; place each portion in prepared muffin cup.
Top each portion with 1 tsp ketchup. Bake for 20 to 25 minutes or until golden brown and meat thermometer inserted in center registers 160°F. Garnish with remaining parsley.
NOTES
Tip: Serve with mashed cauliflower for tasty low-carb comfort food.
Nutrition Facts
Per 1 muffin
Calories 170
Fat 11g
Saturated Fat 4g
Cholesterol 65mg
Sodium 220mg
Carbohydrate 2g
Fiber 1g
Sugars 1g
Protein 15g
WW SmartPoints = 5
Products